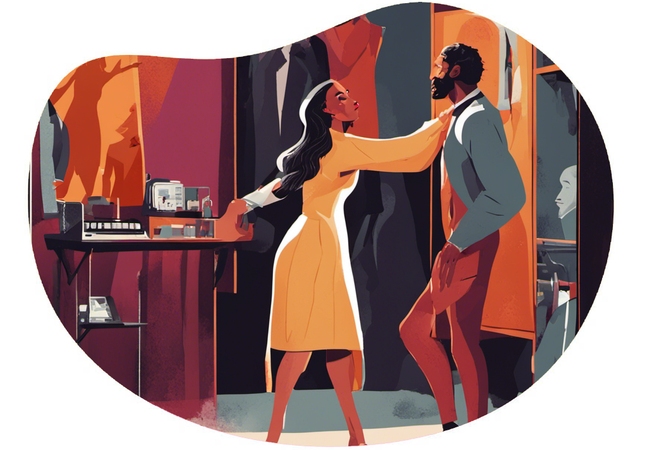 Werewolf Broadway Dresser
This roleplaying scenario will allow you to dip into the realms of fantasy, sensuality, and drama on a magical theatre backstage in Paris. A fun, flirty, and fantasy-rich role play scenario that combines the allure of Broadway with a hint of mythology.
Add to favorites
The stage is a bustling Parisian street where a famous theater stands elegantly. One person plays the ferociously charming werewolf, vulnerable to the lunar pull but trying hard to control their instincts to assist a spitfire actress (other partner) getting ready backstage for her lead role in a Broadway play.
The werewolf, with their wild yet charismatic demeanour, calmly flirts with the actress, complimenting her, assisting her, all while suppressesing their primal instincts. The actress, mesmerized by the werewolf, teases and flirts back, not afraid of the dangers that the moonlight might bring.
As the night progresses, their relationship evolves from one of mutual admiration and flirtation to one that is undeniably heated and passionate, thanks to the enigmatic energy that engulfs the dressing room each time the werewolf is around.
Preparation steps:
Make sure you're well acquainted with your characters. The key to making this roleplay scenario work is fully understanding and capturing the essence of both the werewolf and the actress.
Look into getting some costumes for support. An elegant vintage dress to encapsulate the beauty and spirit of a Broadway star. For the werewolf, choose something rugged and dishevelled - you want to capture the essence of a creature that has spent a lot of time in the wild.
Do a recon of your chosen venue before your adventure. Understand the layout, see where the shadows fall and listen to the echoes. This will help you get deeper into your characters and create a more vivid experience.
Some tips:
Plan your moves carefully. The energy between the two characters should gradually build up letting tension rise until the climax.
Roleplaying is not just about acting, but also about reacting. Be spontaneous and remember to interact with your partner's actions, adding your own flair and twist to surprise them.
Finally, although exploring your primal instincts is part of the fun, always remember to respect your partner's boundaries to create a safe and enjoyable space for both of you.
Was the idea helpful?
Let us know if you liked the idea. This helps us to improve our recommendations.