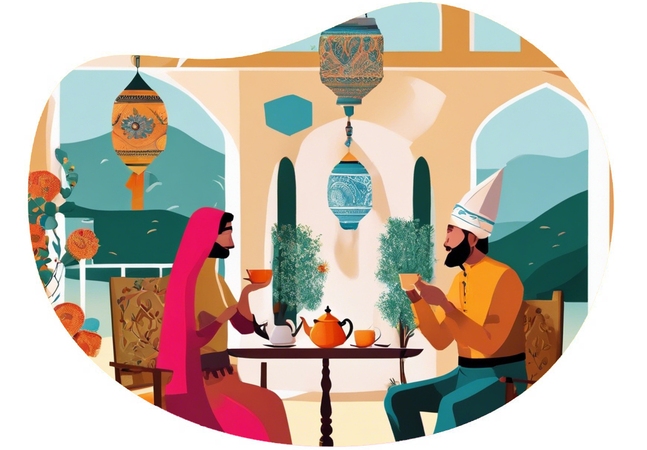 Turkish Culture Night
In the heart of the vibrant city of Izmir in Buca, experience a unique roleplay centered around the enduring culture and everyday life of a traditional Turkish couple. This roleplay includes aspects of Turkish culture, traditional cooking, and warm discussions over a delicious cup of çay in a traditional Turkish house setting.
Add to favorites
Become a part of an everyday Turkish household scenario, becoming a 'Karı Koca' (wife and husband) who are deeply embedded in their culture. The evening starts with you, as the husband, coming back from a long day at work to your beautiful wife who has spent her day taking care of the house.
Your partner will welcome you with warm smiles and a refreshing glass of traditional çay. You sit on the divan in your cosy mock living room, reminiscing about your unique love story while enjoying your tea, much like a real Karı Koca.
As the evening progresses, you both prepare dinner together, sharing laughter, and creating wonderful memories. After dinner, you take a walk on the romantic streets of Buca, holding hands, and ending the evening with passionate lovemaking.
Preparation steps:
Tables should be set with traditional Turkish dishes and tea sets, and you'll need to prepare a traditional meal together using a Turkish cook book.
Make sure your house is clean and tidy, with a Turkish tea set ready. Dress up in everyday Turkish clothing to add authenticity to your roleplay.
To learn how a typical Turkish couple interact with each other, it may be useful to watch a few Turkish series. Lastly, get your sultry Turkish music playlist ready to set the mood for the evening.
Some tips:
Take your time with each phase of the roleplay to feel the love and connection.
The scenario should feel natural and not forced. As such, feel free to adjust the scenario to better suit your relationship dynamic.
Keep your sense of humor throughout the scenario. This will allow both of you to feel more comfortable and enjoy the roleplay more. It's important to remember that it's okay to make mistakes and laugh at them, that's part of the fun!
Was the idea helpful?
Let us know if you liked the idea. This helps us to improve our recommendations.