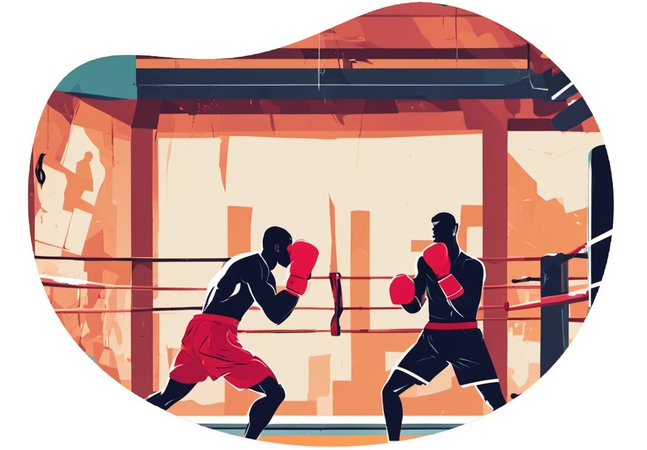 Thrilling Boxing Night
Let your love take the center ring in this intense boxing-themed roleplay scenario perfect for those who enjoy the thrills of the sports world. Prove your mettle in a friendly, exhilarating sparring session and later, enjoy a romantic downtime, proving love really is a relentless bout.
Add to favorites
Start your day by going to a local boxing ring. Gear up and spar with each other. Remember this is a friendly sparring session and the idea is to have fun, not to win. After you've worked up a good sweat, head home and unwind by taking a shower together. Once you're all freshened up, pepper your partner with surprise kisses and wine and dine them.
After dinner, challenge each other for a rematch. This time let it be in the living room with pillows as your weapons. The one who wins this round gets to choose a movie for the night. Finally, end your day by snuggling up on the couch and enjoying the chosen movie while indulging in some delicious popcorn.
Preparation steps:
Before you start your date, make sure you both are physically prepared for the sparring session. It's a good idea to warm up a little before you leave for the gym. Ensure you have all the necessary boxing equipment like gloves and mouthguards.
At home, set up a cozy, romantic ambiance with candles and your partner's favorite scent. Have a bottle of wine ready and prepare a homemade dinner. Don't forget dessert! Chocolate or something just as indulgent is a winner.
For the rematch session, ensure you have enough pillows and space in your living room for your playful pillow fight.
Some tips:
Gentlemen, remember that this date is about enjoying yourselves and bonding over the activity, not asserting dominance. Keep the sparring light-hearted and enjoyable. Highlight the playful nature of the activity and make your partner laugh.
Ladies, regardless of the match's outcome, show your partner you appreciate the effort. They will love your sporting spirit! Give them an encouraging hug or a peck on the cheek to let them know you are having a great time.
Finally, always remember to respect each other's space and boundaries. This event is about connecting with each other over a shared activity, so it's essential to ensure you both are comfortable with each step. Communication is key here. Discuss beforehand about your comfort levels with the different activities planned.
Was the idea helpful?
Let us know if you liked the idea. This helps us to improve our recommendations.