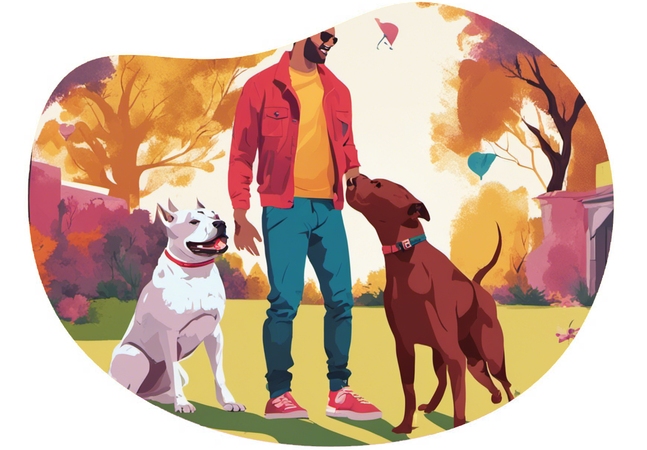 The Backyard Brat
In this Daddy and brat themed roleplay scenario, you and your partner will explore your dominant and submissive sides, incorporating interests in sports and pets as part of the roleplay. From the setting to the activities, this scenario is designed to be intimate yet fun. Perfect for partners who want a personalised connection without the overwhelming presence of lots of people.
Add to favorites
As the scenario begins, you, the 'Daddy,' tend to your backyard, doing typical chores. Suddenly, your 'brat' partner interrupts you, complaining out of boredom. Draped in a 'Sexy adult sports-themed outfit', she insists upon starting a game of throw and fetch with your pitbull. The afternoon is then spent teaching her how to throw the perfect spiral. The lessons get heated, and amid all the teasing and playful banter, you seemingly accidentally press her join you in an impromptu tattoo showoff.
As the sun sets, you, the responsible 'Daddy', grills some hot dogs while 'brat' acts up, distracting you and constantly craving for your attention. Midst all cheery chaos, stolen glances and flirty exchanges, the backyard becomes your playground.
Having served dinner, seeing 'brat' appreciate your efforts will make you confident about your dominance. Next thing you know, you both have eased into the cozy outdoor setting, sharing intimate discussions under the velvety night sky. Roleplay and reality blend, creating a lasting, sensual memory.
Preparation steps:
Your responsibility as 'Daddy' begins with setting up for a day out in the backyard. Make sure it's clean and comfortable. Set up for a small grilling station and make sure you have ingredients for hot dogs. Collect your favourite 'sports gears'. Don't forget the accessories for your pitbull. You will need a comfortable, tent-like structure, with cozy cushions & blankets for the chill October evening.
The brat needs to dress up in a 'Sexy adult sports-themed outfit', preferably something that expresses your partner's unique style. A couple of temporary tattoos should also add a nice touch to the roleplay. Remember, it's all about embracing the bratty nature, craving for attention and being playful.
Make sure to have a reasonable number of drinks or preferable beverages. The key to pulling the role-play off is to make sure you both feel comfortable and confident in your roles. So, prepare in advance, discuss the scenario, set the boundaries and ensure a safe word.
Some tips:
Remember, safety comes first. Make sure to have a safe word or sign, so you both can enjoy the play without crossing any boundaries. Also, ensure the safety of your pitbull in this play. It's always good to have a first aid kit nearby too since you are involving an energetic game.
Explore your creativity within this roleplay. Play with each aspect detailed in the scenario and feel free to add or modify parts that work best for you and your partner. For example, the brat could also indulge in an art and craft activity like tattooing 'Daddy' as part of the role-play.
Communicating before and after the play keeps the trust and fun intact. It is important to respect each other's feelings and personalities, so make sure to take time after the play to discuss your experiences and highlight the elements you loved the most, or those you want to change for better next time.
Was the idea helpful?
Let us know if you liked the idea. This helps us to improve our recommendations.