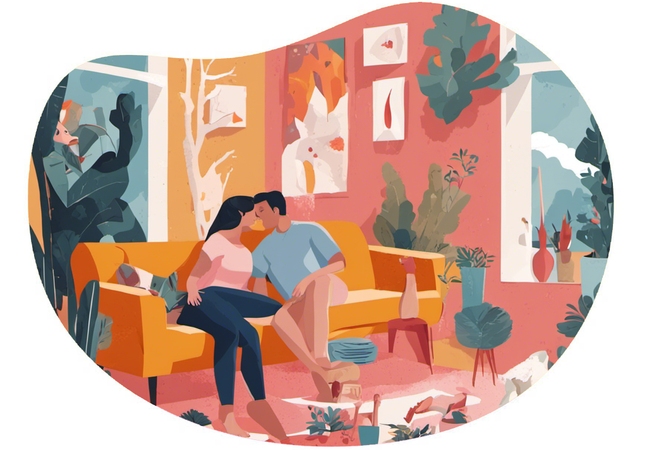 Teasing Night In
Add a tantalizing twist to a cozy indoor night with 'Teasing Night In' role-play scenario. Perfect for couples who love a little naughty fun and teasing, this setup will involve an irresistible lure which ignites anticipation and paves way to a passionate night. The game will give you endless opportunities to tease him and turn his obsession with teasing into a playful night.
Add to favorites
In this scenario, you become the Tease Queen, a notorious figure who keeps everyone around her on edge. Your boyfriend will play the role of a man who overlooked your rules. He tried to lay his hands on you despite your warnings. So, you decide to teach him a lesson tonight making him long for your touch. Pretend like you don't enjoy it when he tries to touch you, making him long for your attention. The key to this game is self-control. Maintain the teasing until he can't bear it anymore, and in the end, reward him for his patience.
The scenario can be enhanced with dim lights, some romantic music, and some wine to set the mood right. Make sure to be playful and keep the energy between you two charged up all the time. The ambiance should scream teasing.
The beauty of this game lies in its unpredictability. So, make sure to keep your boyfriend guessing. Don't give in to his advances immediately. This will only build up the anticipation and make the climax more satisfying.
Preparation steps:
First, set the ambiance right. Dim the lights, throw on some alluring music, and get a bottle of wine to set the mood. The location should be private to ensure an undisturbed session.
Secondly, prepare yourself mentally. The key to pulling off this scenario is the confidence in yourself and the tease in your eyes. Dress up in a way that accentuates your confidence and your ability to tease him. A suggestive outfit that he likes might be helpful.
Lastly, break down the scenario to your boyfriend. Let him know that he will be required to resist the urge to touch you. Assure him that this will only heighten the intensity and satisfaction when you finally let him cross the boundary.
Some tips:
Remember, the goal is for both of you to enjoy the experience. So, keep open communication and establish boundaries before starting the game. This will help ensure that both of you are comfortable with the scenario.
The game can be extended to include various aspects of teasing. For instance, you can hold a conversation while keeping him in suspense, or you can tease him with your words. As long as it helps maintain the mood, anything goes.
Lastly, remember to guide the situation to a satisfying climax. The end of the game should not leave your partner feeling frustrated. After all, the buildup of tension should ideally lead to a gratifying reward.
Was the idea helpful?
Let us know if you liked the idea. This helps us to improve our recommendations.