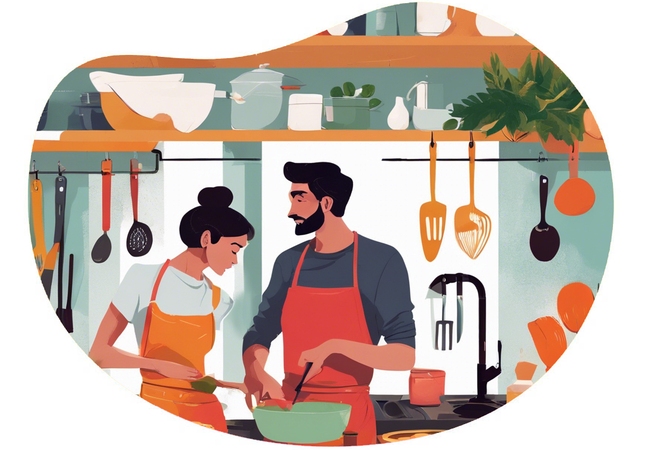 Spice Up Your Love - Chef and Food Critic Roleplay
Add a little spice to your life with an indoor, chef and food critic roleplay scenario. It not only turns up the heat in your kitchen but also in your relationship.
Add to favorites
The scenario is set in your kitchen, where 'Chef' (the husband) is preparing a meal for the 'Food Critic' (the wife). The food critic is known for her strict and uncompromising reviews, and the chef is eager to please her. Cooking in this scenario is more than just about the food, it's a game, a dance where every action has more meaning
While the chef whips up his exquisite dishes, the food critic watches closely, making it known she expects only the best. As the tension builds, the line between actual cooking and flirtation becomes blurred, making the kitchen hotter by the minute.
Whether the meal tastes good or bad, what the food critic is really looking for is the love and effort put into the cooking. After the meal, the chef asks for the critic's review. How she delivers it and what happens next is entirely up to your imagination.
Preparation steps:
Most of the action will take place in your kitchen, so it's important to have everything clean and ready. Make sure you have enough ingredients for a simple yet delicious meal that both can enjoy
Dress the part. The 'Chef' can wear his regular home clothes, a kitchen apron, and a chef's hat. The 'Food Critic' can deck out in something she feels confident and sexy in. Remember to keep an aura of elegance, as she is a reputable critic.
Set the mood with romantic, soft background music and perhaps dim the lights, this will add depth to your scene. Let the smells and sounds of the kitchen be part of your experience.
Some tips:
Remember that the aim here is to have fun. It's okay to stumble and laugh as you try to stay in character. This is a chance for both of you to explore and embrace your sexualities while enjoying the process.
In roleplay scenarios, it's important to communicate about comfort zones and boundaries before starting. Make sure both of you are comfortable with the roles and scenario.
Finally, despite being a roleplay scenario, the emotions and passion should be real. Try to express your love for your partner through your cooking and critique.
Was the idea helpful?
Let us know if you liked the idea. This helps us to improve our recommendations.