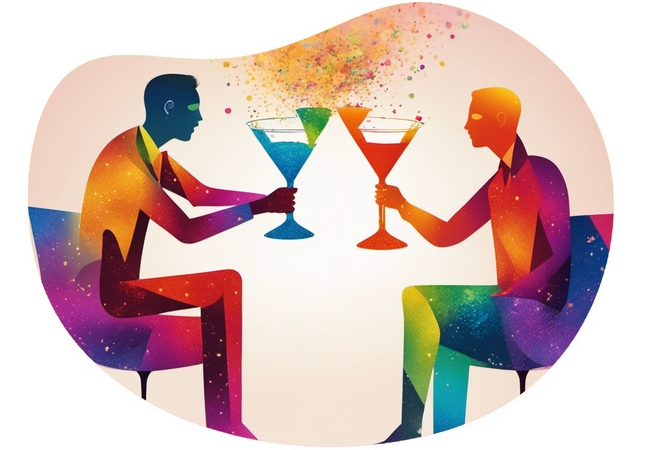 Rainbow Glitter Martini Masquerade
Combining creativity, imagination and lots of sparkles, this roleplay scenario will see both partners embrace the symbolism of the rainbow and toast to love and equality with glitter martinis. A perfect scenario to celebrate who they truly are, along with some fun, humor, romance and lots of bubbly interactions.
Add to favorites
The two of you are prominent figures in your city's LGBTQ+ community and are hosting a grand masquerade party in celebration of Equality Day. The centerpiece of your party is the rainbow glitter martini - a symbol of the vibrance, diversity, and sparkle of your community.
As hosts, your roleplay will involve planning and managing the event. You will mingle with your guests, hand out rainbow martinis, and partake in the celebration of love and acceptance. Also, in the spirit of the masquerade, you will pretend not to know each other and navigate through the glitz and glamour of your own party to find your partner.
Throughout the roleplay, remember to keep your identity hidden from your partner and try to woo them over again, adding a sensual and playful element to the scenario. End your roleplay with the unmasking ceremony - a perfect moment to express your love and desire for each other.
Preparation steps:
First of all, plan your masquerade party according to your personal style - from the decor to the music. You might wish to use rainbow-themed items and lots of glitter to showcase the theme of the roleplay. Pick out a playlist that fits the lively, vibrant mood of the party.
Next, decide on your outfits. You would want to be the best-dressed hosts at your own party after all! Opt for something colourful, perhaps with a touch of pink, taking into consideration your partner's love for the color. Masks are a must to keep your identities hidden until the very end.
Finally, learn how to make rainbow glitter martinis if you don't already know how. Practice makes perfect and you would want to be able to impress all your imaginary guests! Try out different recipes and flavors to find the one you like best.
Some tips:
Remember, the scenario should be fun and playful. Use your imaginary guests to create interesting situations or dialogues. For example, you could have an imaginary guest flirting with your partner that would lead to an enticing 'jealousy' play, or maybe, somebody trying to figure out who's behind those masks.
Secondly, don't reveal your identity until the unmasking ceremony. This is a great way to build anticipation throughout the scenario. You could use this opportunity to be somebody else entirely, using a different accent or mannerisms to keep your partner guessing.
Lastly, since arrogance is something your partner dislikes, ensure to present yourself as humble and down-to-earth in your interactions.
Was the idea helpful?
Let us know if you liked the idea. This helps us to improve our recommendations.