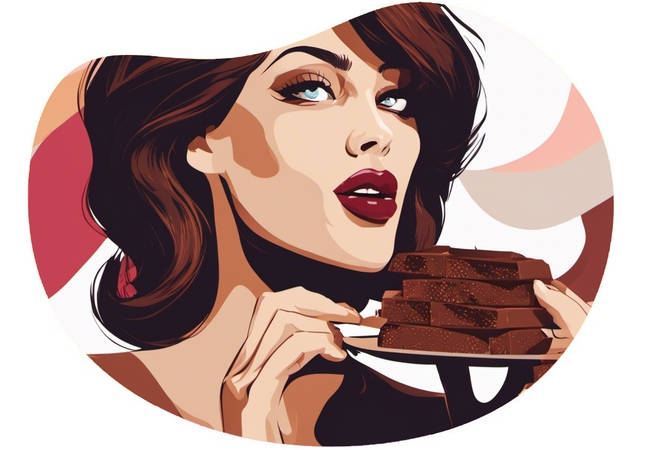 Playful Sweet-tooth Seduction
Experience a playful yet intimate role-play night where you give into your partner's flirtatious charm and her sweet tooth. It's a simple, intimate role-play scenario that revolves around chocolate, sensuality and mutual desire.
Add to favorites
The scene opens where both of you are relaxing in the comfort of your home. The girlfriend spots a bar of chocolate on the table and her eyes twinkle with mischief. She challenges you to a game, bet on by pieces of the chocolate. You both will take turns asking each other flirty, daring questions. If a person fails to answer, they will have to eat a piece of chocolate. Things escalate as the girlfriend starts to eat chocolate seductively, causing increased tension and lust. The goal isn't to win the game, rather to tempt and tantalize each other using chocolate till it leads to a tantalizing sexual experience together.
The decor of the room is dimly lit with soft, romantic music playing in the background, giving the setting an intimate and sensual mood.
The game continues till all the chocolate pieces are gone, transitioning into an intimate and passionate sexual exploration of each other, cementing your bond further.
Preparation steps:
Ensure a clean and cozy room that does not contain anything that could be distracting. Ambient lighting and light romantic music in the background will set the mood perfectly.
The important prop for this scenario is a delectable bar of chocolate (or several): Ensure that you get the type your partner loves. Being October, it may be a bit colder so make sure it's warm enough for comfort. Wear something relaxed, but sensual.
Prepare yourself mentally: be ready to answer tricky and flirtatious questions, and to escalate the play into a sexual encounter.
Some tips:
Ensure that both partners are comfortable with the scenario and understand the context beforehand to avoid any awkwardness.
Keep a consistent flow between transitioning from playful flirting to more sexual exploration, do not rush into the sexual part. Take your time to savor the anticipation build-up.
Weave flirty compliments and suggestive remarks into your conversation. Emphasis on your partner's beautiful features, such as her big boobs, can help to heighten the excitement.
Remember the real fun of this scenario is in the teasing and build-up using the chocolate, how you eat it and play with it, not solely on the actual sexual activity.
Was the idea helpful?
Let us know if you liked the idea. This helps us to improve our recommendations.