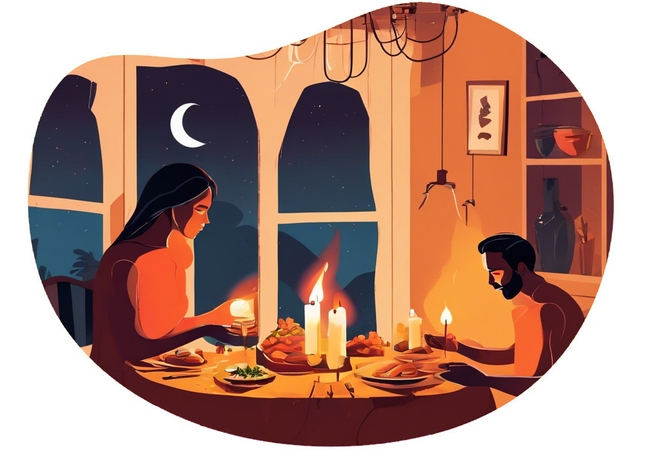 Passionate Oriental Evening
Experience the romantic passion of the Middle East and delve deep into a world of desire and affection. This role play scenario, Powered by the allure of Aşk, the Turkish word for love, is intimate, sensuous and will surely stoke the fires of passion between you and your beloved one. All these you can enjoy at your home, transforming it into a beautifully romantic setting to bring your fantasies to life, especially on the backdrop of a beautiful Çanakkale evening.
Add to favorites
Transform your home into a romantic oriental environment. Dress up in a 'Sexy adult Turkish Harem Outfit' complete with head veil or turban for your partner. Once dressed, meet your partner for a quiet evening indoors as he/she takes on the role of a sultan/sultana in his/her 'Sexy adult Ottoman Sultan Outfit'. Prepare a traditional meal together, sharing the spices of the Middle East whilst deepening your connection. After dining, let a slow traditional Arabian music play in the background which will enhance the sensual atmosphere. Then dance! Turning the living room into a personal dance floor will not only promote intimacy but also work wonders to spark that passion. You are explorers of each other's bodies, let the mystery unravel in a wave of desire as you converse in whispers and satisfy each other's cravings.
As the evening progresses, continue to entice each other through the language of love, letting the sensual music guide your rhythms and picking up the pace as the night darkens. Exchange compliments and talk about your deepest fantasies. Once your desires are set free, allow yourselves to give in to the passionate energy that has been building up. Keep in mind to respect each other's boundaries while you explore, the whole purpose of Aşk is about mutual pleasure and respect.
To wrap up the evening, engage in intimate conversation over a cup of traditional Turkish tea or wine, discussing the experience with each other and letting the night drift in subtle pleasure, passion and promise of more such enchanting nights to come.
Preparation steps:
Get your house cleaned and light up some scented candles. Take a hot shower and get ready. You will need a 'Sexy adult Turkish Harem Outfit' for yourself and a 'Sexy adult Ottoman Sultan Outfit' for your partner. Since this role-play is home-based, invest in some sensual home decorations to help set the mood, such as soft throw pillows, a satin bedspread, and perhaps even some lustrous silver and gold fabrics to create a more authentic vibe.
Prepare your kitchen for creating a traditional middle eastern dish together. Stock on ingredients based on the dish you decide and don't forget the Middle Eastern spices for that authentic taste. Also, make sure to have some traditional music ready or access to an online playlist for your dance.
Consider sending your partner a handwritten, traditionally sealed invitation to make things even more exciting. This could detail the time of your evening, and a small hint towards the role-play session to come in a fun, enticing manner!
Some tips:
Creating that perfect role-play session requires communication. Ensure you and your partner are comfortable with the scenario and respect each other's boundaries. The scenario has elements of dance, so if you and your partner aren't very rhythmic, don't worry about it, the idea is to have fun and add a bit of playful flirtation.
To get in character, you might consider learning a bit about the history of the Ottoman era, just to add a bit more depth to your role-play. Ensure you have all the ingredients for your meal beforehand and create a playlist to fit the night's theme.
Make sure to use descriptive language throughout the evening and feel free to customize the scenario to best suit your relationship. The most important thing is that you and your partner are comfortable and you enjoy your evening together.
Was the idea helpful?
Let us know if you liked the idea. This helps us to improve our recommendations.