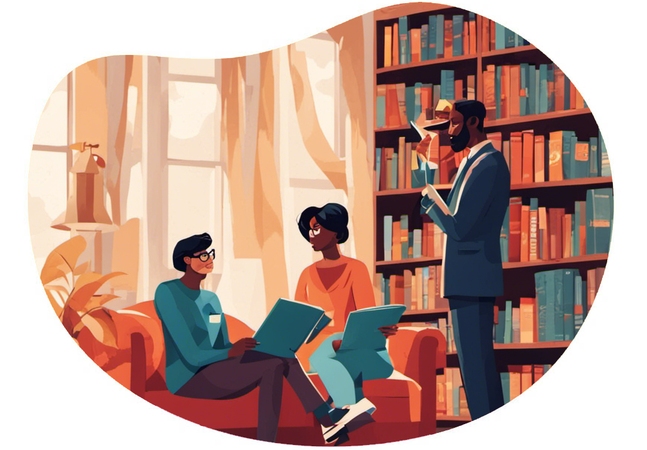 Naughty Study Group
You and your partner enact a sizzling and romantic roleplay scenario where one of you is an over-enthusiastic student and the other is a charismatic yet firm professor. As the cooler months settle in, keep each other warm with this fantasy that unfolds within the indoor comfort of your home.
Add to favorites
One of you slips into the role of a passionate student, eager to ace the subject, while the other transforms into a charismatic professor, firm in their teachings but easily mellowed by the charm of their student. The scenario begins with a study session where complex theories are explained and doubts are cleared. From genuine curiosity, the talk subtly tilts towards playful banter and teasing flirtation.
As the evening progresses, the 'professional' dynamic between the professor and student morphs into something more intimate. Amidst the heaps of books and notes, the student playfully challenges the professor to an intellectual game. The winner gets to call the shots in the bedroom.
Things heat up quickly as the rules of the game allow for enticing punishments and rewards. The loser can't resist the winner's whims which makes even losing an exciting prospect. What started as a late-night study breaks into an exhilarating romance.
Preparation steps:
To create the university ambiance in your home, you'll have to spend some time transforming a quiet corner into a mini-library. Stack up some books, set up a study table, get a pair of glasses perhaps – anything that would add up to the theme for the roleplay.
Once your 'university' is set, decide who would play the student and who would be the professor. Don't forget to dress the part. The professor might want to wear a formal outfit, while the student in probably something casual or preppy.
Chalk out the game that you would play during your scenario. It could be a quiz or a simple Q&A round based on a book. Make sure the rules allow for stimulating rewards and penalties.
Some tips:
To make things more interesting, add some prop to your game. Play with cards where each card drawn corresponds to a particular activity.
Don't rush through the scenario, instead let it unfold naturally. Allow room for unexpected shifts in dynamics.
Remember, the key to enjoy roleplaying is the ability to let go of inhibitions. Regardless of how the game turns out, enjoy yourselves to the fullest and be open to switching roles at any time.
Was the idea helpful?
Let us know if you liked the idea. This helps us to improve our recommendations.