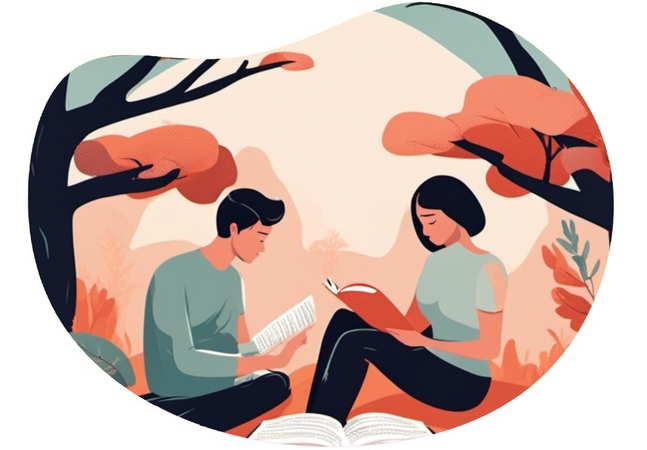 Midnight Poetry Reading
Passionate poetry and a cozy setting make for an intimate and intellectual evening that won't cost you a dime. Perfect for the colder October nights, this roleplay allows couples to explore their creativity and deepen their emotional connection.
Add to favorites
Transform your living room into an intimate poetry session after dark. The partner playing the role of 'the poet' should prepare a collection of romantic and sensual poetry to recite. The partner acting as 'the poetry lover' will listen intently, allowing themselves to be wooed by the words. The night is young, and between verses, soft touches and deep eye contacts intensify the experience. As the readings advance, so does your connection, leading to a heightened sense of intimacy.
Preparation steps:
The poet will need to select poetry that suits the mood of the evening. Consider poems by Pablo Neruda or Rumi which are romantic and deeply passionate. Prepare your space: dim the lights, arrange comfortable seating, and perhaps light a few candles. The poetry lover should prepare to enter the scene with an open and receptive mind, ready to be captivated by the words.
Some tips:
For the poet: Don't just read - perform! Emphasize the emotion behind each verse, make your partner feel every word. For the poetry lover: React, engage, and let yourself be carried away by the rhythms of the verse. This roleplay isn't about rushing, but more about building a connection, deeper than the physical attraction. Remember, the goal here is intimacy and connection, not explicitness. Allow the natural progression of the evening guide you towards a passionate and tender climax.
Was the idea helpful?
Let us know if you liked the idea. This helps us to improve our recommendations.