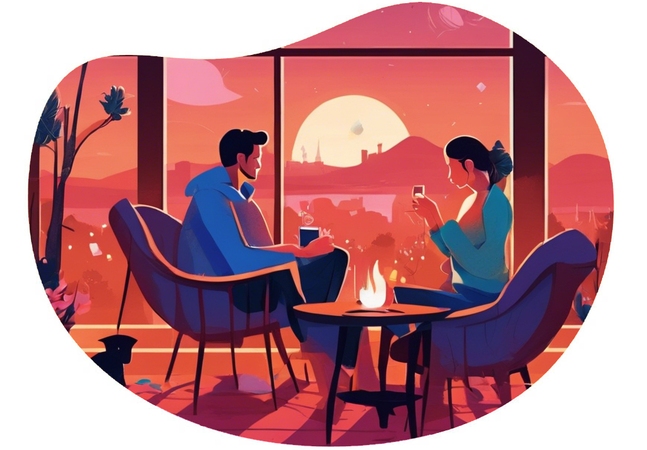 Intimacy Night In
Relax and get closer in an intimate setting. Ideal for those who prefer staying indoors during colder months and aren't fond of dancing.
Add to favorites
Set the scene for a night of intimacy and closeness. Unwind in the comfort of your living room, dim the lights down, and play some soft music in the background. Spread a plush blanket on the floor with pillows around for extra comfort.
Find a few simple yet engaging activities. You can start with a well-thought-out game of truth or dare focused on deep, meaningful questions which encourage open-ended responses. Next, you could move on to other activities such as trading massages or trying a new recipe together.
Finally, settle down with your partner under a warm blanket, a glass of wine in hand as you watch a romantic movie together. Throughout the night, remember it's all about talking and getting to know each other better. The goal is intimacy, not just physical closeness but emotional and mental as well.
Preparation steps:
You'll need to make a few preparations for your intimate night in. Start by choosing a space in your home where you won't be disturbed. Make sure it's clean, tidy, and comfortable. Set the mood with some soft lighting - you can use candles for a more romantic feel.
Next, choose some soft, soothing music to play in the background. You'll also need a game of truth or dare, a massage oil, an easy recipe and its ingredients, and, of course, a romantic movie. Try to choose films that encourage conversation and connection. Finally, don't forget the wine and glasses.
Dressing up is not necessary but if you want to add an extra touch of romance you can opt for a light, comfortable, and alluring attire.
Some tips:
Keep the communication lines open. Support each other to be open and vulnerable, ask questions to show your interest in your partner's thoughts and feelings. Pay attention to non-verbal cues as well, such as body language, tone of voice, and facial expressions.
Make sure to focus on your partner's comfort when giving a massage. Feedback is important, so always ask if the pressure is okay or if there are spots they want more attention to.
When cooking together, make it a fun, collaborative effort rather than focusing on the perfect outcome. The process of preparing the meal is where you'll have the most bonding opportunities. Finally, remember, this is a night for both of you to connect and have fun. So, keep the mood light and enjoyable.
Was the idea helpful?
Let us know if you liked the idea. This helps us to improve our recommendations.