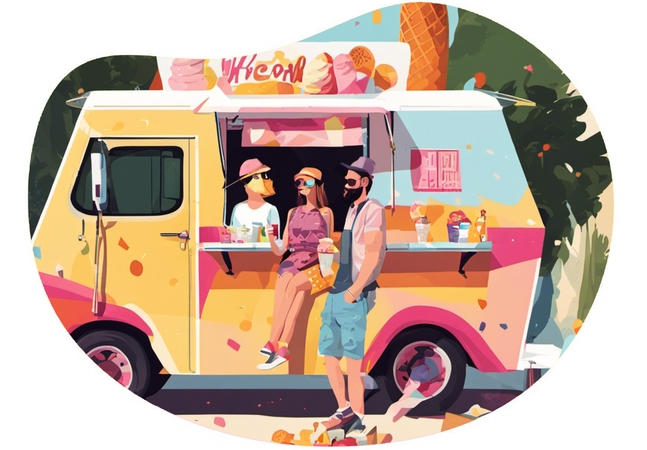 Hipster Love Story
Get ready for a quirky, cute, and passionate roleplay journey as Chris, the cheerful, athletic, lacrosse-loving, ice-cream-obsessed guy, and Hera, the elusive, funky alt girl, dive into their everyday extraordinary love story. Fantastic for an intimate day in October, this hipster-themed roleplay scenario is suitable for all couples looking to add a twist of joy to their relationship.
Add to favorites
It's a balmy October day where Chris, the athletic boy, and Hera, the stylish alt-girl, decide to explore the city's cool and eclectic offerings.
The date starts at an outdoor food truck festival, it's lively and perfectly matches the free-spirited vibe of the couple. Chris, coming across his favorite ice cream truck, insists on sharing his all-time favorite flavor with Hera. A playful ice cream feeding takes place, indulging in childish gaiety and laughter.
Finish your day in a cozy corner of the park, where under the dreamy skies and amidst the whispers of the autumn leaves, you have a passionate yet tender moment, reflecting your profound connection. The day ends with a passionate, spontaneous exchange of love confessions whispered underneath the orange autumn foliage. And perhaps, a promise of many more such shared moments in the future.
Preparation steps:
Save preparation time by dressing up according to your characters from the start. Hera, make sure you accentuate your alt girl style with fishnet stockings, oversized sunglasses, and a pair of Dr. Martens. Chris, opt for a trendy sporty look with a varsity jacket, ripped jeans, and running shoes.
Pack a picnic blanket, as you will spend the later part of the day at the park. Make sure to pack some mood lights or fairy lights to set the scene.
Rehearse your roles before the day, get into the character of the happy, athletic guy, Chris, and alt girl, Hera, to enjoy the roleplay to its maximum.
Some tips:
Be open and spontaneous to improvise. This scenario is all about the connection, the cuteness, and the charm.
Both partners should be actively engrossed in their characters to make the scenario more enjoyable. Remember, Chris always stays in a joyful mood, and Hera, with her alt-girl vibes, brings a unique touch to all situations.
The playfulness and quirks in the scenario rely heavily on small details. Hence, pay attention to your body language, expressions, and interactions, from the way Chris excitedly shares his ice cream with Hera to their intimate moment under the autumn sky.
Was the idea helpful?
Let us know if you liked the idea. This helps us to improve our recommendations.