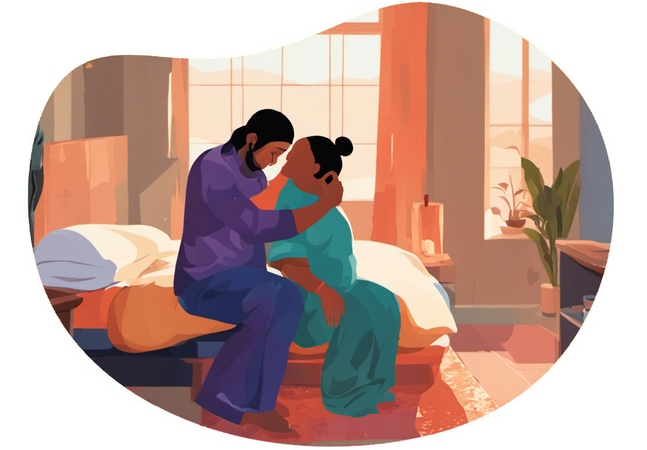 Healing Comfort
Engage in an intimate, emotional and comforting roleplay scenario that allows you to connect and understand your partner on a deep level. As a support worker, your role is to aid your partner, playing the part of a traumatised Vietnam War veteran suffering from PTSD, in exploring and expressing his grief and loss due to the war. It adds a unique dimension to your romantic connection and promotes deep understanding and emotional intimacy.
Add to favorites
Start by setting up your quiet, soothing indoor space, dimmed lights can help create a calming and safe environment. Dress up as a support worker, maintaining a formal yet approachable appearance, while your partner embodies the role of the Vietnam War veteran. Begin your conversation with generic questions about your partner's day or interests, gradually leading into more detailed discussions about his experiences during the war, and the grief and loss he's faced.
As the conversation progresses, explore deeper into the veteran's mind, discussing his fears, his aspirations before the war and how the war changed him. As a support worker, your goal is to validate his feelings, gently providing comfort and solace. The idea is not to save him from his trauma, but to help him feel heard and understood.
The evening ends on a hopeful note, maybe you don't resolve all issues today, but your consistent support has helped him open up a little. Encourage lingering eye contact and more touching like a comforting tap or hug to cement the bond and provide physical comfort.
Preparation steps:
Preparation for such a role play scenario should primarily focus on doing a bit of research about the Vietnam War and PTSD in general. This will make the roleplay experience more authentic and meaningful. You should also set up a calm and relaxing space, free of distractions, where you both feel comfortable and safe.
The partner playing the support worker should think about some questions to ask ahead of time to help guide the conversation and be ready to listen and provide comfort in response to the answers.
The partner who would be portraying the Vietnam War veteran should prepare themselves by trying to embody an individual that has lived through these traumatic experiences. This may involve reading about personal recounts of war veterans and reflecting upon how this would have influenced their character's perspective on life.
Some tips:
The aim of this roleplay is understanding and comforting, and above all, making sure everyone feels safe. It's important to remember that this is a sensitive subject, and it's perfectly alright to step out of character if it gets too much. Keep the conversation as slow-paced and comforting as possible.
Adding a 'safe word' could be helpful in case one needs to take a break from the intensity of the character. Being aware of each other's limits and boundaries make roleplay enjoyable and comfortable for both.
Finally, having a debrief after the roleplay could be helpful. Discussion about what you enjoyed, found challenging and things you learnt about each other can add value to the experience.
Was the idea helpful?
Let us know if you liked the idea. This helps us to improve our recommendations.