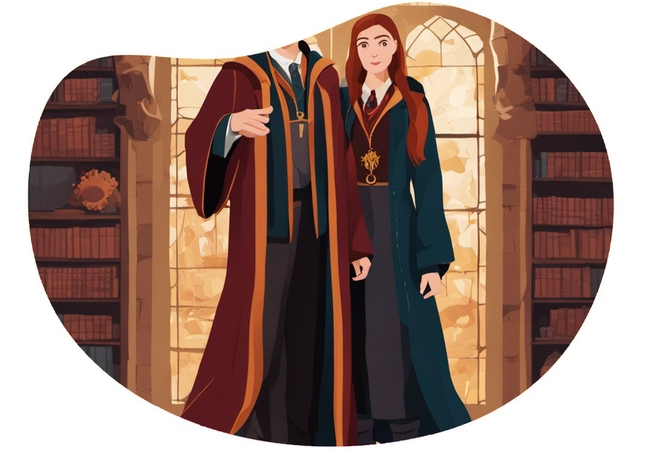 Harry Potter Themed Role-Play
Enter a world of magic and enchantment with your partner and dive deep into the realm of Harry Potter themed role-play. Live your Hogwarts dream and create your own magical night, filled with spells, props, and Wizarding costumes
Add to favorites
Begin your adventure by spending time with your partner designing and decorating your living room as the Hogwarts Great Hall. Discuss your favourite spells and characters while setting the mood, reminiscing the iconic scenes and the environs of the Wizarding World.
The woman dresses up as Hermione with a 'Sexy adult Hermione's costume', and the man as Harry with a 'Sexy adult Harry Potter's costume'. A fun twist would be to play a game of 'Name the Magic Spell', where you pretend to cast enchanting spells on each other.
As the night proceeds, you turn to each other with mischievous eyes. The time has come to experience the adult version of the wizarding world. The magic begins as you start to fulfill each other's intimate desires, aided by the Leviosa Wand Vibrator for the settings and Slick wand Massaging oil for the mood. The magic of the wizarding world making the evening a truly unforgettable experience.
Preparation steps:
Preparing for this date will involve getting a few props to set the mood. Start by rearranging your living room to resemble the Hogwarts Great Hall. Get yourself and your partner some Wizarding uniforms and robes. You should also find some Harry Potter themed items such as candles, vintage books, and even Hogwarts house flags to add to the decoration.
Sexy wizard's costumes would be a great addition. You can find 'Sexy adult Hermione's costume' for ladies and 'Sexy adult Harry Potter's costume' for men online. Furthermore, the Leviosa Wand Vibrator and some Slick wand Massaging oil would help to create the magic and spice up the night.
Also, take some time to memorize a few magic spells from the Harry Potter series to play 'Name the Magic Spell' game. It will not only add fun to your evening, but also give your role-play a more authentic feel. Remember, the goal of this is being playful and the focus should be on the experience over the outcome.
Some tips:
Expect lots of laughs and clichés as you bring the Wizarding World to your living room. Don't worry if neither of you are the best spell-casters; the real magic lies in the time spent together, the memories you will create, and the intimate bond you will reinforce.
Make sure to create a magical atmosphere, think of the Hogwarts' Great Hall vibe and dim the lights, set the candles alight, and let the magic envelop you. Please be mindful of the candles, ensure they are placed safely.
Lastly, remember, the key to an exciting and memorable role-play date is to let loose, suspend reality for a while, and fully immerse yourself in the character and the moment.
Was the idea helpful?
Let us know if you liked the idea. This helps us to improve our recommendations.