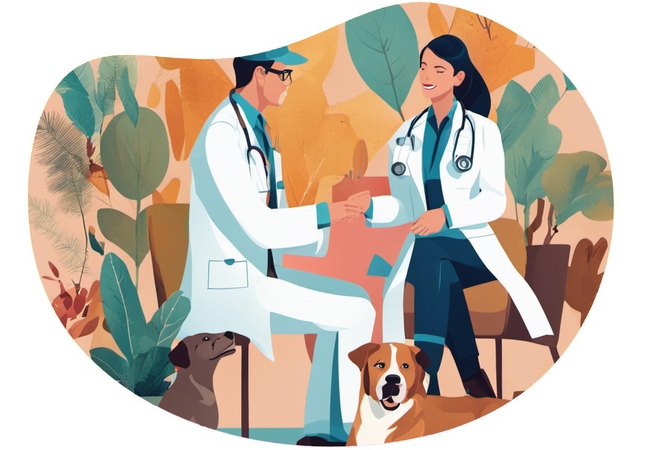 Dr. Love's Veterinary Clinic
Ignite your sexual chemistry with our Dr. Love's Veterinary Clinic scenario. Role-play as a passionate veterinarian (Devin) and a concerned pet owner (Susana) who find themselves drawn to each other through their shared love for animals. This scenario is perfect for partners that appreciate creative role-play scenarios combined with passion and excitement.
Add to favorites
In this scenario, Susana role-plays a concerned pet owner while Devin assumes the role of the seasoned and charming veterinarian, Dr. Love. The scenario begins with Susana frantically bringing in a 'sick pet' into Dr. Love's clinic. Devin, maintaining his composed demeanor, assures her of his abilities to take utmost care of her 'beloved pet'. The tension begins to mount as Devin 'examines the pet' making sure to include Susana in every step, showing her how 'sensitive his touch can be'. The countdown to the climactic culmination begins as they share a glass of white wine in the 'waiting room' for the 'pet consultation' to be over.
All throughout the examination, he assures her by conversely creating a sensually tense atmosphere. She cannot help but be drawn to his charisma and his gentle yet firm ways. A sudden 'revelation' of the pet's 'sickness' brings them closer together as they navigate through this 'difficult' time. This scenario ends with them taking comfort in each other's arms. Susana finally gives into her passion for Devin as the tension climaxes towards the cathartic end of their night.
From the 'visit' to the 'consultation', there is a thrilling ambiance that culminates into an electrifying and passionate experience between them. The role-play allows you to connect on multiple levels as you venture from the concern to the comfort in each other's arms.
Preparation steps:
Set up your living room or a preferred room to resemble a veterinary clinic with a section for examination, waiting area, and consultation. Devin will need a 'Doctor's Coat', stethoscope, and a veterinarian ID tag, while Susana can wear a casual but sexy outfit. Have a pet toy at hand that could act as the 'sick pet'.
Plan out how the role-play will progress - the meet, the examination, the revelation, and the intimate connection. To add into the realism, create some fake medical records for the 'pet'. It will also be important for Devin to prepare some veterinarian jargon to make his persona more believable.
Have a bottle of white wine ready to be served during the 'waiting room' scene, as well as some soft background music to help set the mood. The tone of the evening should be crafted to make the experience as close to your fantasies as possible.
Some tips:
Ensure that both of you are comfortable in your roles as a veterinarian and a concerned pet owner. Discuss beforehand what each role entails and any boundaries that should not be crossed.
Immerse yourself truly in your roles - let loose, and let your fantasies take over. Indulge each other physically and emotionally. Lay bare your desires under the veil of the fictional characters. Show appreciation for each's other characters which will exponentially intensify your connection.
Remember, the aim is to create a sensual and erotic atmosphere - both of you are the stars of the evening. Attention to details such as the scenario, the dialogues, the spot-on role playing, and the passionate intimacy will ensure an unforgettable experience.
Was the idea helpful?
Let us know if you liked the idea. This helps us to improve our recommendations.