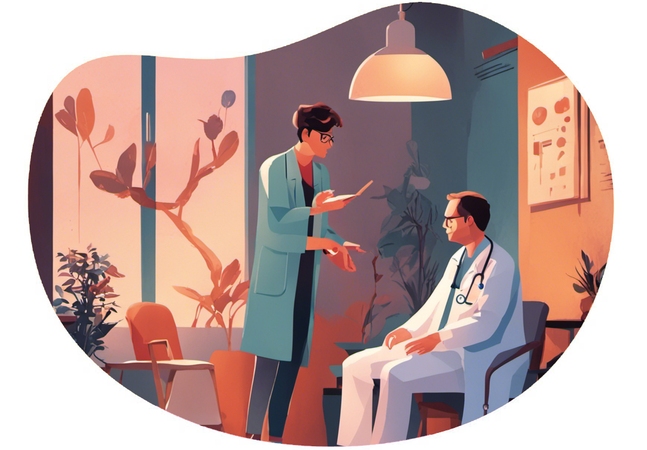 Doctor-Patient Seductive Cure
A stimulating role-playing game as a Doctor and a Patient, where the need for a lustful cure sets the tone for an evening of passion. This steamy scenario channels the love between the partners and allows them to explore a new aspect of their relationship in a playful yet intimate manner.
Add to favorites
In this scenario, one partner plays the role of a patient in dire need of a special treatment, while the other partner assumes the role of a seductive doctor. You set up your home like a private clinic, it's dimly lit, creating a perfect mood for the playful session that's about to unfold. The Doctor enters the scene, finding the patient awaiting an examination. The role-play then proceeds with the Doctor providing the special care to the patient that ends up in a passionate rendezvous.
The setting of this game allows for a wide spectrum of interactions, from the examination to the treatment. Mix in a little surprise by playing around with roles, maybe the patient isn't as innocent as they seem, and is more aware of what they are looking for in their sensual cure. Remember, the game should stay within the boundaries and comfort levels of both the partners.
As the evening unfolds, the scenario shifts from a purely playful role-play to a more passionate encounter, with plenty of room to act out fantasies and desires. It's all about teasing, playing and loving, a romantic escape from daily life into the realm of medical fantasy and playful seduction.
Preparation steps:
Setting the scene is essential for the authentic enactment of this scenario. A room at home can be dedicated to mimic a personal clinic ambience. You would need a comfortable couch or bed resembling a patient bed, a doctor's coat and a stethoscope as props, and possibly gloves, all available at a local costume store or through online shopping.
Music can be used to create a flirtatious atmosphere, soft and low tunes, not too intrusive yet mood setting. Make sure the lighting is dim and warm, enhancing the intimacy and seductive vibe of the scenario.
To make sure your partner enjoys the role-play, discuss the idea with them beforehand, and ask about their preferences - after all, role-play should be fun and comfortable for both parties. Ensure you both are on the same page about respecting boundaries and using safe words if applicable.
Some tips:
Take your time with the setup and prep, it's important not to rush this. Make the clinic environment feel as real as possible, while still maintaining an intimate, seductive atmosphere. Remember this is just a role-play, keep it light and fun.
The most important thing in any role-play scenario is consent. Make sure to discuss each other's boundaries and comfort levels beforehand, and agree on a safe word if needed. It will allow you both to fully enjoy the scenario without feeling uncomfortable.
Incorporate your love in your roles, make it a bit more intimate and emotional. This can be achieved by sharing sensual secrets, disclosing some of your hidden desires during the play. Listen to each other, show respect and most importantly – enjoy the play!
Was the idea helpful?
Let us know if you liked the idea. This helps us to improve our recommendations.