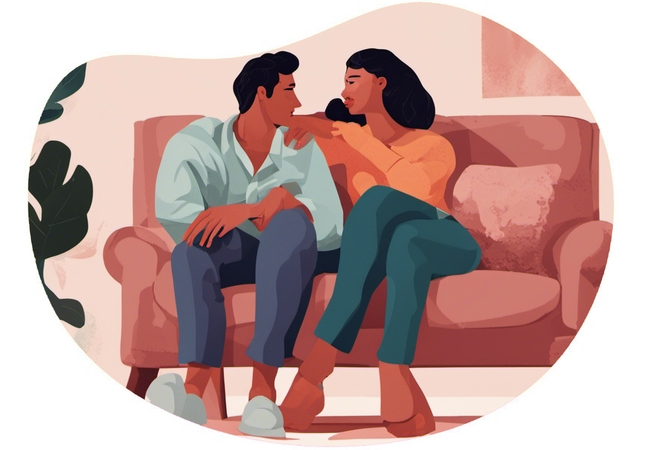 Comfort Time Romance
You're a shoulder to lean on for your partner. With this roleplay setup, your partner pretends to have some issues they're dealing with. You, the consoling friend, provides a listening ear, comfort, and eventually a romantic connection. It's a tale of friendship evolving into something more intimate.
Add to favorites
Your partner, the one with embedded feelings of unhappiness mixed with spurts of anger, needs a friend. Not just any friend, but a close male friend. As this friend, your job is to provide constant support and companionship. After your partner unexpectedly knocks on your door requesting your company, you start with friendly discussions about anything and everything. You listen attentively to their worries, giving verbal as well as physical comfort. As the 'evening' progresses, the scenario slowly but surely evolves from friendly banter to sincere compliments to subtle flirts and finally leading up to a romantic interaction.
The shift from comforting friend to romantic partner is gradual and believable. The main objective is to create a scenario where comfort is paramount, and physical intimacy is introduced as a natural progression—almost an afterthought, but a pleasantly surprising one. Play the part of understanding and emotional support that creates an emotional bond before moving to the physical one. Let the situation pan out naturally, going with the flow of the conversation and the level of comfort with your partner.
The main driver of this scenario is the conversation and comforting interactions between you two. Channel your inner gentleman, and reassure your partner while revelling in the emotional connection. If your partner is comfortable and receptive, the conversation can take a romantic turn, leading to soft kisses, tender touches, and intimate whispers. At this point, remember to maintain the utmost respect and consideration for each other's boundaries.
Preparation steps:
Creating a comforting and cosy atmosphere is key here. Make sure your home (living room or bedroom) is clean and cozy. Light a few scented candles, play some soothing background music, and have some comfort food like ice cream or chocolate at the ready.
Dress comfortably, as you're supposed to be at home. A pair of jeans and a casual shirt would do. You want to look genuine and not overly done up. Your partner can dress up in whatever way they think their character would dress—something that showcases their personal style but also adds a touch of vulnerability.
Remember, this roleplay scenario is anchored in emotion, so prepare yourself emotionally. Think about how you will listen and respond to your partner's concerns, and how you will gradually steer the conversation towards more intimate topics. Be ready to show empathy and make your partner feel loved and cherished.
Some tips:
Communication is crucial in this scenario. Be sure to have a safe word in place, as the roleplay involves navigating potentially emotional territory. This ensures that you both are comfortable throughout the roleplay session.
Remember to maintain the friend persona through the early parts of the scenario. While it may be tempting to move towards the romantic aspect quickly, this can break the immersive experience.
Finally, don't rush the transition from friend to more-than-friend. Let this happen organically. Pay close attention to the mood and your partner's reactions, and progress at a pace that you both are comfortable with.
Was the idea helpful?
Let us know if you liked the idea. This helps us to improve our recommendations.