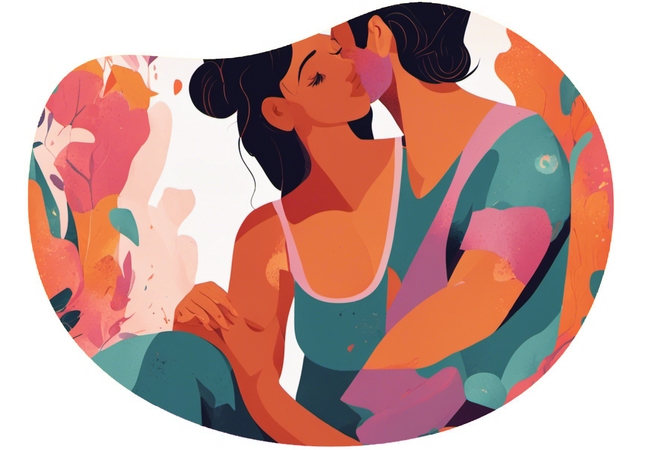 Best Friends with Benefits
In this thrilling scenario, you and your partner become best friends who secretly harbor deeper feelings for each other. A classic movie night escalates into a secret sharing session, before the tension ignites into a passionate encounter. This scenario allows you to explore the dynamics of a romantic relationship wrapped in the comfort and familiarity of an old friendship.
Add to favorites
Start the evening by setting up a classic movie night at home. Get your favorite snacks and choose a movie you both love. However, tonight, there's a twist: every time the lead characters in the movie share a glance, you have to share a secret with each other. As the evening progresses and the number of secrets you share increases, so does the tension and anticipation.
Allow the friendship to slowly escalate throughout the evening. Show small signs of affection that friends normally wouldn't. Maybe it's a lingering look, a compliment that's a bit too personal, or a touch that lasts a second longer than necessary. Eventually, the line between friends and lovers becomes blurred.
As the movie comes to an end, the tension between the two of you reaches its climax. Admit your deeper feelings for each other. This is when friendship crosses the line into something more. You're not just best friends anymore, you're lovers. Spend the rest of the evening exploring this newfound intimacy and passion.
Preparation steps:
Firstly, stock up on your favorite snacks and choose a movie that both of you love. Make sure to come up with a list of secrets to share when the moment comes. It could be something funny, embarrassing, or something that you've been wanting to confess for a long time.
Prepare the setting. Create a cozy and intimate atmosphere by dimming the lights and getting a few soft blankets and pillows. Heat things up by preparing a surprise for your partner - maybe it's their favorite dessert or a bottle of their preferred wine.
Get into your role as best friends. Dress up in something casual and comfortable. Remember, you're not just play-acting as best friends, you're exploring what it would be like if you were best friends turned lovers.
Some tips:
Remember, this is a roleplay where you are best friends who are crossing the line into becoming lovers. Keep the atmosphere relaxed and familiar, but also ensure there's an underlying tension right from the beginning. This will make the transition from friends to lovers more exciting and enjoyable.
Don't rush the secret-sharing part of your movie night. Take time to react to each other's confessions and enjoy the moments of vulnerability. Let the tension between you build naturally.
While you should enjoy the roleplay, ensure that both you and your partner are comfortable with the scenario. Always respect each other's boundaries and make sure there's mutual consent and enjoyment.
Was the idea helpful?
Let us know if you liked the idea. This helps us to improve our recommendations.