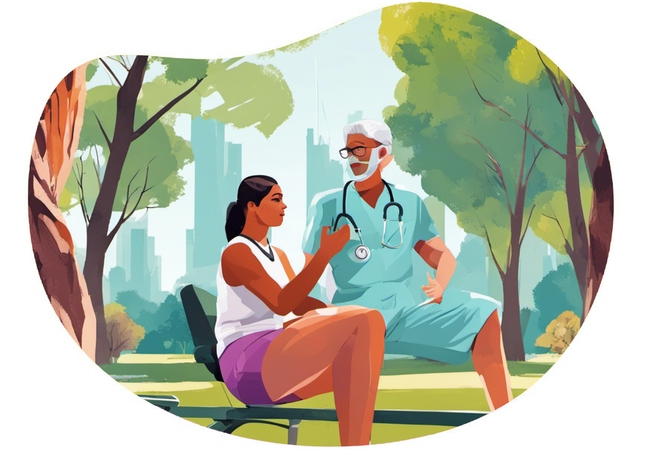 Athletic Recovery
An athletic-themed sexual roleplay scenario where a partner plays a sportsperson and the other, their doctor
Add to favorites
The sun is just setting in Paris, and you're at Champ de Mars, a beautiful park near the iconic Eiffel Tower, with your athlete partner, Jenny. After a vigorous workout, Jenny, playing the part of an injured sportswoman, begins to experience some discomfort. Being the caring partner and doctor that you are, you leap into action, insisting on a thorough examination.
Without the need for a clinic, you set up a makeshift examination room in the park, away from prying eyes. You then proceed on your checkup, your hands carefully but professionally exploring her body, checking for potential injuries. The intimate nature of the examination begins to stir feelings between you two.
As the temperature drops, night falls, and the park is almost empty. The tension is palpable. You suggest a massage as part of her treatment, which quickly turns intimate. Underneath the blanket of the starry Parisian night, with the Eiffel Tower lighting up your makeshift 'clinic', you both give in to your desires.
Preparation steps:
To prepare for this experience, one partner will need to dress in a Sexy Adult Athlete costume. This can comprise of a workout top, shorts, and athletic tennis shoes, plus any sports gear such as a tennis racket or a soccer ball.
The 'doctor' partner should wear a Sexy Adult Doctor's costume including a lab coat, stethoscope, and glasses. They can also bring massage oils and a portable Bluetooth speaker to create an ambient environment with relaxing music.
Additionally, the doctor should dedicate some time to learn about sports injuries and their treatments to make the role-play more authentic. The athlete, on the other hand, should prepare by learning some sport-related terminologies and strategies.
Some tips:
It would be wise to choose a corner of the park where you won't be easily seen by passerby. Also, remember to respect public decency while you engage in your play. You can do this by keeping your clothes on where possible and be discreet about your actions.
If you don't already have the costumes, try not to compromise on the quality. Good quality costumes will enhance your role-playing experience.
Lastly, remember that communication is key in any role play scenario. Make sure both of you are comfortable with the role play and willing to stop if any discomfort arises.
Was the idea helpful?
Let us know if you liked the idea. This helps us to improve our recommendations.